Extinction Rebellion Cambridge is delighted to announce the opening of two new cycle lanes in Cambridge to assist with social distancing in the city, help accommodate the boom in cycling as a result of the coronavirus pandemic, keep cyclists safe, and as a first step in reimagining our streets as we emerge from the crisis.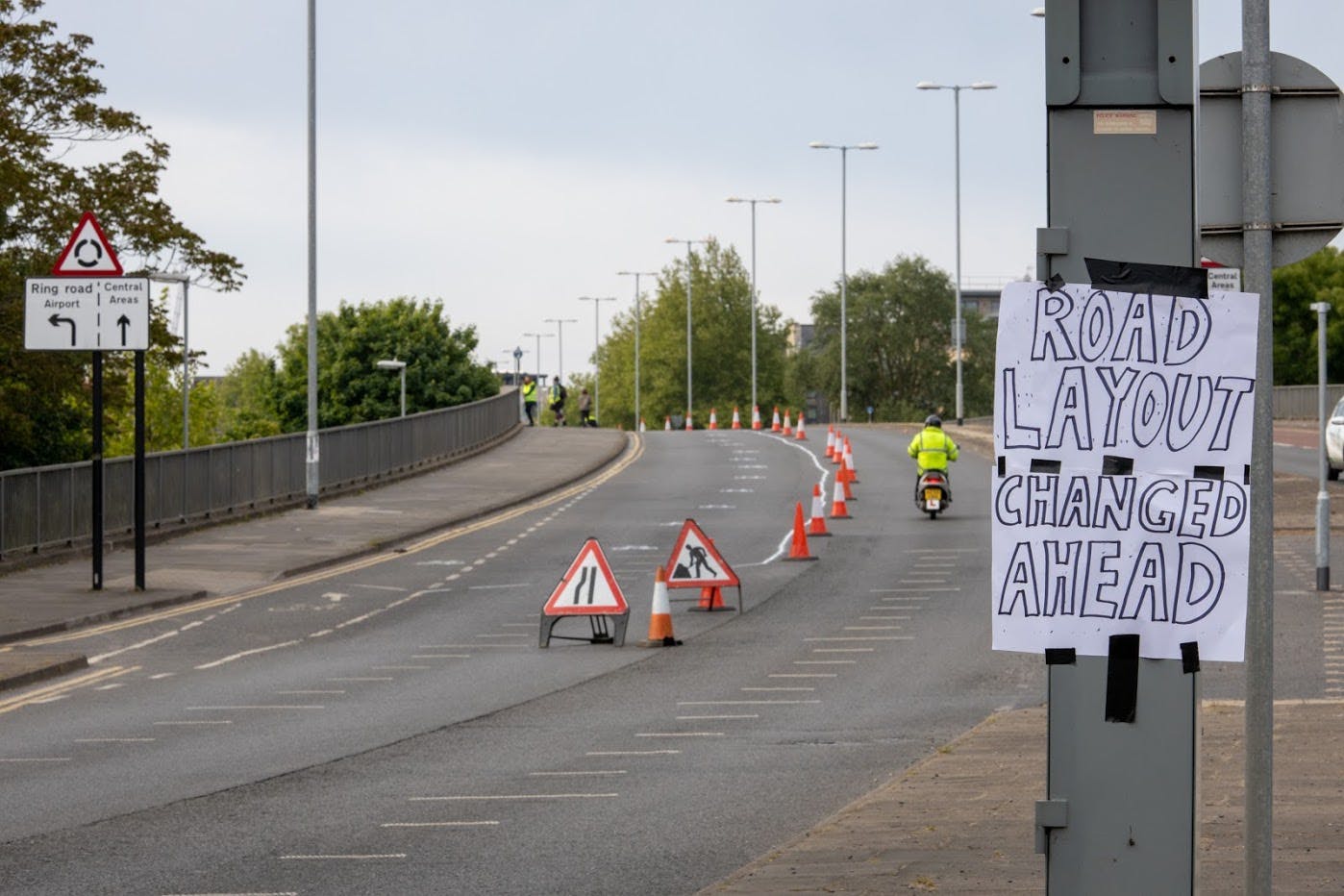 The lanes have been opened on Victoria Avenue and Elizabeth Way Bridge, marked with the usual solid white lines and bicycle symbols. For safety, the lanes are also bordered by fluorescent cones, and 'new road layout ahead' signs have been erected. As the work took place, rebels were thanked by pedestrians and cyclists, and drivers respected the changes. The locations were chosen because they are key linkage points in Cambridge, with Victoria Avenue having no cycle lane and Elizabeth Way having a narrow shared pedestrian and cycle path while cars get four lanes over the bridge. XR Cambridge felt it had to take the initiative due to the lack of action from the County Council, City Council, and the Mayor to keep people safe following the easing of lockdown.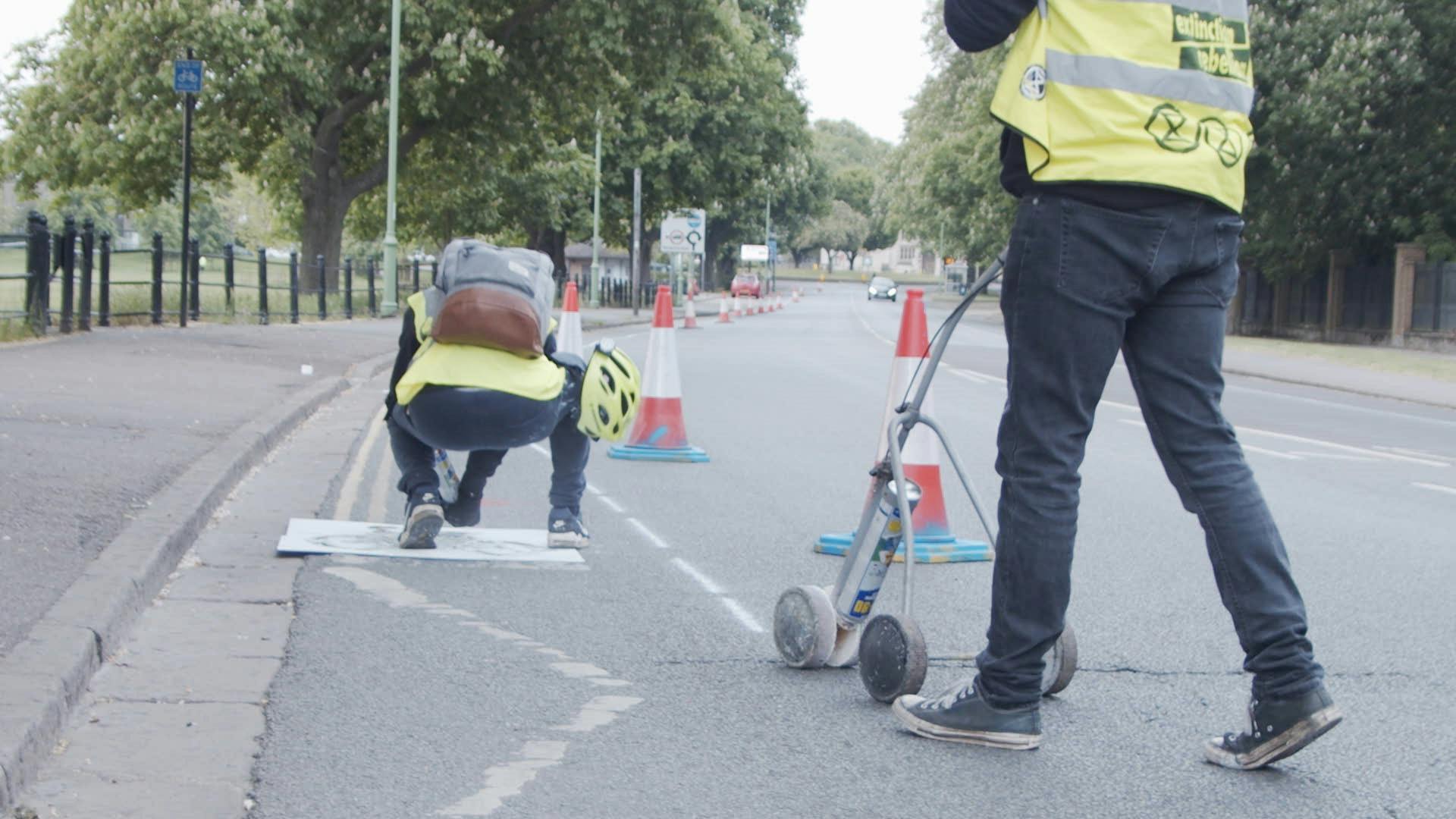 In recent weeks, cities around the country – including Liverpool, Bristol, York, Leeds, and Birmingham – have made detailed announcements regarding the closing of roads and the opening of new cycle lanes and routes. London's mayor, Sadiq Khan, has also just announced a landmark programme of new people-first streets.
By contrast, Cambridge City Council, Cambridgeshire County Council, and Mayor James Palmer, have failed to set out concrete plans for remodelling our streets or installing cycle lanes, despite Westminster and the transport secretary Grant Schapps asking all councils to do so - and despite Cambridge having the highest per person rate of cycling of any city in the country. Not one road has been closed to aid social distancing. On Friday a leaked plan for transport changes in Cambridgeshire and Peterborough was described as "in its infancy," while full of caveats about being "very careful" about harming commuters and economic growth. This gives us no confidence the authorities will act in a manner commensurate with the problem.
A source of shame
"The lack of action on road closures and cycle lanes by the County Council, City Council, and Mayor James Palmer really should be a source of shame in the city that labels itself the innovation capital of the UK. If, during a pandemic, in the city with more cyclists per person than anywhere else in the UK, when cycling is booming, with car traffic absent, and when Westminster has asked councils to take action, the authorities in Cambridge can't agree to put out a few bollards, it begs the question: are these governing authorities fit for purpose?" said Nathan, a spokesperson for XR Cambridge. "This is a challenge to the councils and the Mayor: step up. Step up and prove that you have what it takes to meet the challenge of the moment. As lockdown eases, Cambridge is in danger of seriously missing the boat when it comes to transforming our streets. This lack of action to protect people is reckless. If other cities around the country can do it, why can't you? Our polluted streets are a health hazard large enough to rival Covid-19."
Additional cycle lanes and a new vision for our streets are a desperately needed public health measure as our city attempts to find a new normal in the middle of this ongoing pandemic. But beyond the pandemic, cycling and a serious reduction in car use must become the default if we are to clean up the air, boost public health, and make our cities safe for people. There can be no going back to the pre-coronavirus norm of congested, polluted streets.
No Going Back XR campaign
The installation of the cycle lanes was part of the national No Going Back campaign undertaken by Extinction Rebellion groups across the country. The campaign emphasises the need for a transformation of the transport system in the UK to make it safer, healthier and more equitable. XR Youth Cambridge also recently made the demand that Cambridgeshire County Council "must work with other relevant regional authorities to provide a plan for a just transition away from an inadequate transport system reliant on fossil fuels"; little movement has been seen.
All rebels taking part in this action did so during their daily exercise, wore masks, and socially distanced themselves to ensure the safety of all involved.
An XR Youth Cambridge member has previously explained: 'We wish we had time to wait for the coronavirus crisis to end before going back to tackling the climate crisis, but we don't, because they're inextricably linked. Activism is something that is very hard to do purely from home, so we believe our protests must continue, albeit in a more socially distant form with more safety measures. We are very careful not to break the terms of the lockdown, but if the climate crisis is allowed to continue unchallenged, the consequences for global public health will be dire - much, much worse than the current pandemic. Many doctors, medical staff, and even the editor of The Lancet, a major medical research journal, have stated this but have been ignored by the government. We don't have any more time, and the current crisis shows this.'