Join XR Cambridge
Welcome to XR Cambridge! On this page, we'll show you how you can get involved in XR Cambridge, by coming along to a General Meeting and finding your way in from here. If you have any questions or would like a friendly XR Cambridge buddy to help you settle in, email us on info@xrcambridge.org
How to join: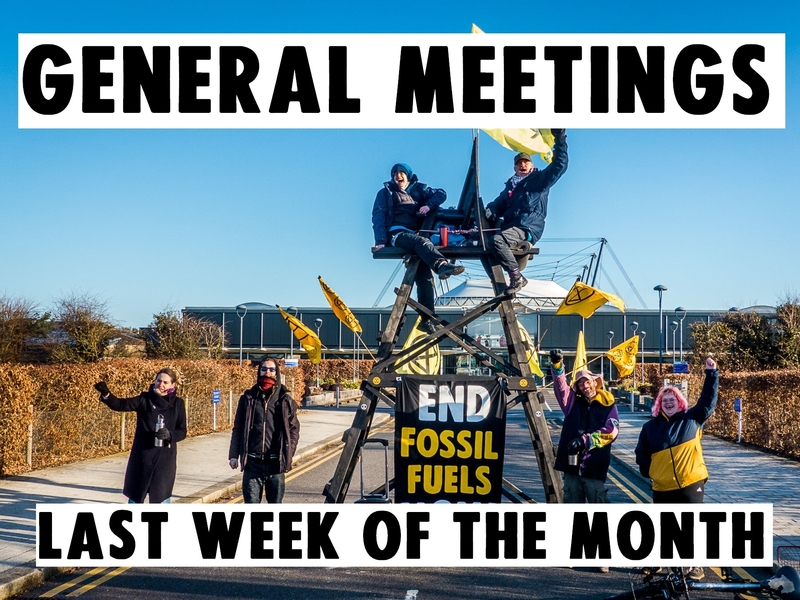 The first thing to do is to come along to a General Meeting. These happen on the last week of every month and are hybrid (in person and on zoom). At a General Meeting, you will have the chance to:
Meet some XR people
Find out what's going on in XR Cambridge
Take part in interesting discussions or action planning
At a General Meeting, we'll make sure you are set up on the right communication channels so you can stay in the loop. This involves:
Downloading the Signal app (a free messaging app for smart phones)
Join the announcements channel
Sign up to the email newsletter
Assigning you a buddy who will help you out as you find your way
After this, you just need to get trained up and start coming along to meetings or actions!
General Meetings for 2023:
Last week of the month (the day varies)
In person: 7–9pm, Friends Meeting House, Jesus Lane, Cambridge CB5 8BA
Online: 7:10–9pm, https://us02web.zoom.us/j/88257083879?pwd=eDZXRnp1dXRrSW54Q3lQY0Nwa3VTZz09
Meeting ID: 882 5708 3879
Passcode: biscuits
Dates: Tuesday 24 January, Thursday 23 February, Thursday 23 March, further dates tbc.
Get trained up:
To take part in actions, you need to have non-violent direct action training. You can attend a live zoom training, an in-person training, or you can work through the training in your own time at https://uk.rebellion.academy/nvda
You'll also need to attend a "Know Your Rights" training - either in person or at https://uk.rebellion.academy/kyr
Questions?
Email us at info@xrcambridge.org
Rebel starter pack - FAQs
How do I find out about things that are happening?
There's so much going on - how do I decide what to go to?
Look out for actions that are marked "Mass participation"
If you are keen to participate in direct actions or help in other ways, just say so in the Signal chat or at a Super group meeting and someone will link you in. 
Do you have any stuff I can read in my own time?
Can I help without going to actions?
How do I keep in touch with other rebels?
Download the Signal app (it works like WhatsApp but without the data harvesting!)
Ask to join the XR Cambridge Chat - this is a place to say hello, let others know your interests and say how you wish to be involved and join in conversations. It's a busy chat but will give you a feel for current topics of discussion and is a route to connect with more specific chats.
There are multiple other Signal chats for specific actions, task groups or particular interests.
Why do  people use nicknames in the chat?
Many people use their own names but it is recommended to use a nickname (or "alias"), particularly if you participate in direct actions, although you may want to consider it even if you don't currently. This is an important aspect of ensuring individuals are not identifiable as 'organisers' or 'leaders', as this has legal implications. 
It can be hard to keep up as people often change their alias if they think their identity has been revealed. 
It's best not to store people's real names in your phone contacts as this could compromise another rebel's anonymity. Instead, use their alias. Even if you don't use an alias and don't see the need, it's important to respect other people's personal security preferences.