Join XR Cambridge
Welcome to XR Cambridge! On this page, we'll show you how you can get involved in XR Cambridge, by coming along to an Introductory talk and also by joining one of our Supercrew meetings. If you have any questions or would like a friendly XR Cambridge buddy to help you settle in, email us on xr_cam_ag_support_wg@protonmail.com
Get trained up:
To take part in actions, you need to have non-violent direct action training. You can attend a live zoom training, an in-person training, or you can work through the training in your own time at https://uk.rebellion.academy/nvda
You'll also need to attend a "Know Your Rights" training - either in person or at https://uk.rebellion.academy/kyr
Introductory talk:
Our next introductory talk will be on Thursday 24th February 7-8:30pm. You'll hear some of the science behind the climate and ecological crisis, the problems with our political system, and where XR and civil disobedience comes from. You'll also have a chance to meet Cambridge rebels, ask questions, and find out what to do next. The whole session will be relaxed and friendly.
Zoom link: https://us02web.zoom.us/j/83453083830?pwd=QVRBcVFNdnVELzJVQ3ViemUxeVFQdz09
Meeting ID: 834 5308 3830
Passcode: 011760
Supercrew meetings:
Supercrew meetings are for meeting other rebels, finding out about actions and brainstorming action ideas - they are very friendly and relaxed.
Anyone is welcome at any Supergroup meeting: just turn up and you will be welcomed! However, we will also have a Special Supercrew meeting on 2nd December for new rebels.
We meet twice a month as follows:
First week of the month - Thursday 8-9pm
Third week of the month - Tuesday 8-9pm
Zoom link: https://us02web.zoom.us/j/88660228318?pwd=c3R4dWhCRlVYaUxpYXNWd3d3TFNZZz09
Meeting ID: 886 6022 8318
Passcode: pink
Here's a summary of the joining process: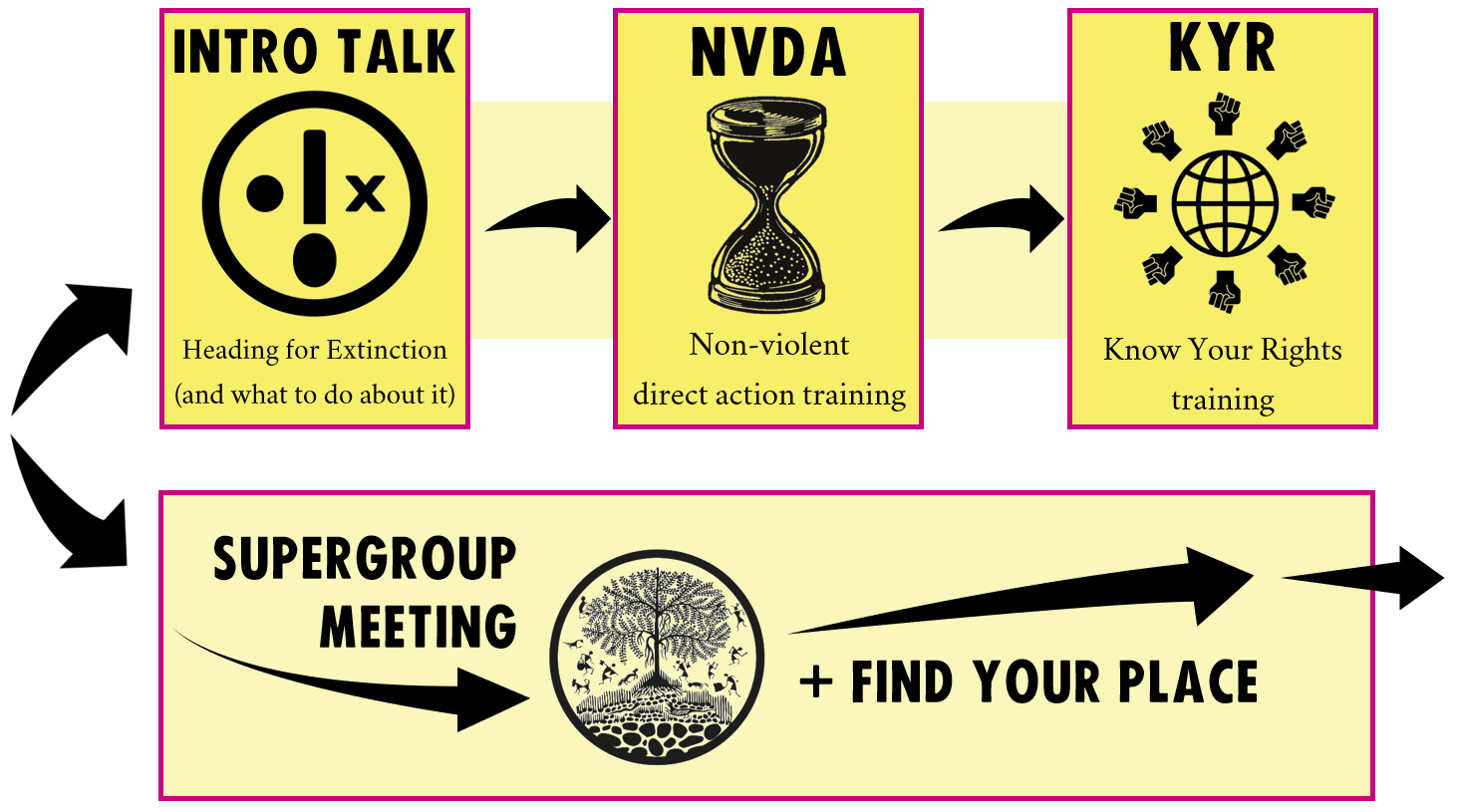 Not sure or got a question?
xr_cam_ag_support_wg@protonmail.com
Rebel starter pack - FAQs
How do I find out about things that are happening?
There's so much going on - how do I decide what to go to?
Look out for actions that are marked "Mass participation"
If you are keen to participate in direct actions or help in other ways, just say so in the Signal chat or at a Super group meeting and someone will link you in. 
Do you have any stuff I can read in my own time?
Can I help without going to actions?
How do I keep in touch with other rebels?
Download the Signal app (it works like WhatsApp but without the data harvesting!)
Ask to join the XR Cambridge Chat - this is a place to say hello, let others know your interests and say how you wish to be involved and join in conversations. It's a busy chat but will give you a feel for current topics of discussion and is a route to connect with more specific chats.
There are multiple other Signal chats for specific actions, task groups or particular interests.
Why do  people use nicknames in the chat?
Many people use their own names but it is recommended to use a nickname if you don't participate in direct actions. This is an important aspect of ensuring individuals are not identifiable as 'organisers' or 'leaders', as this has legal implications. 
It can be hard to keep up as people often change their nickname if they think their identity has been revealed. 
It's best not to store people's real names in your phone contacts as this could compromise another rebel's anonymity.