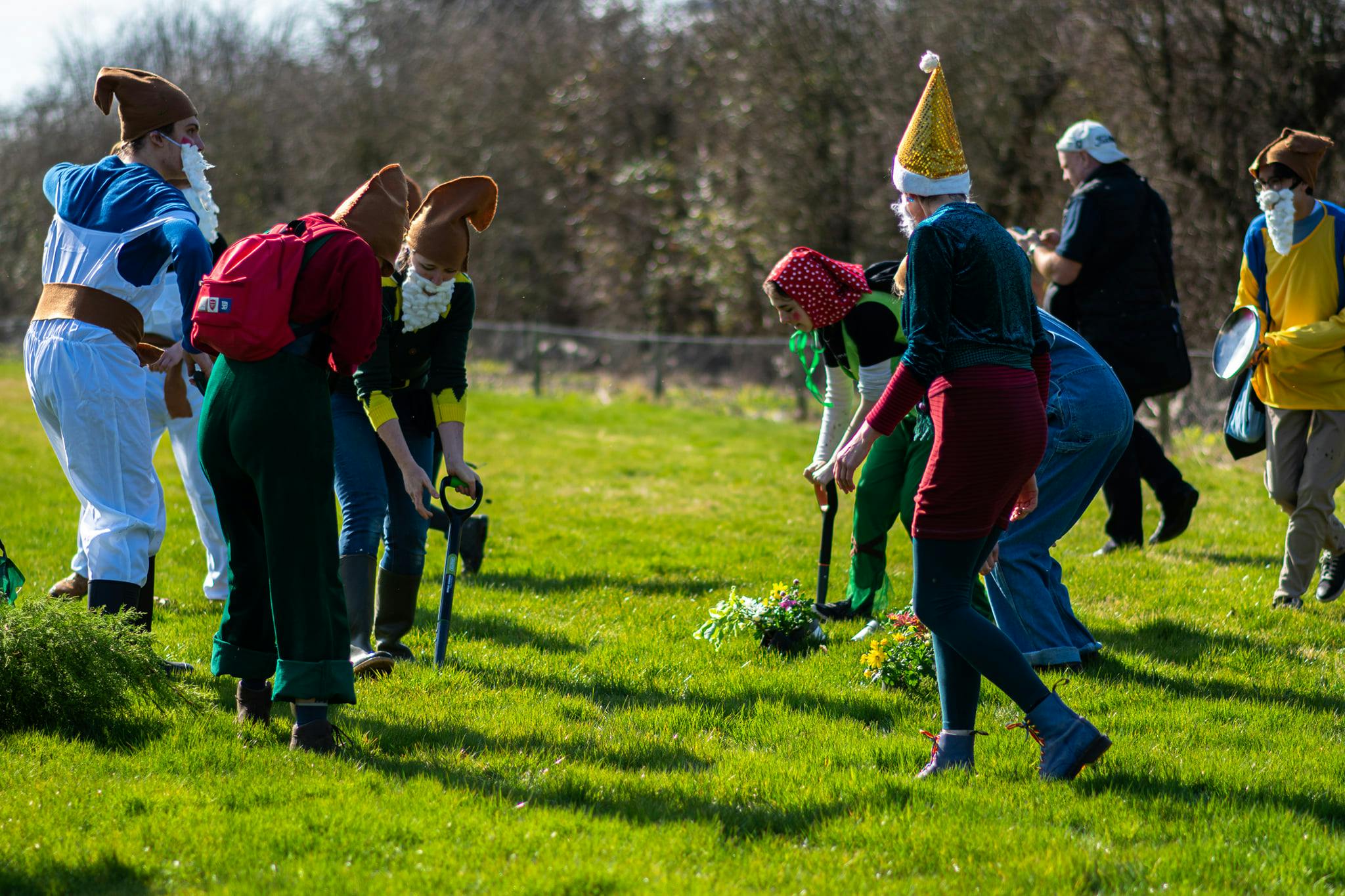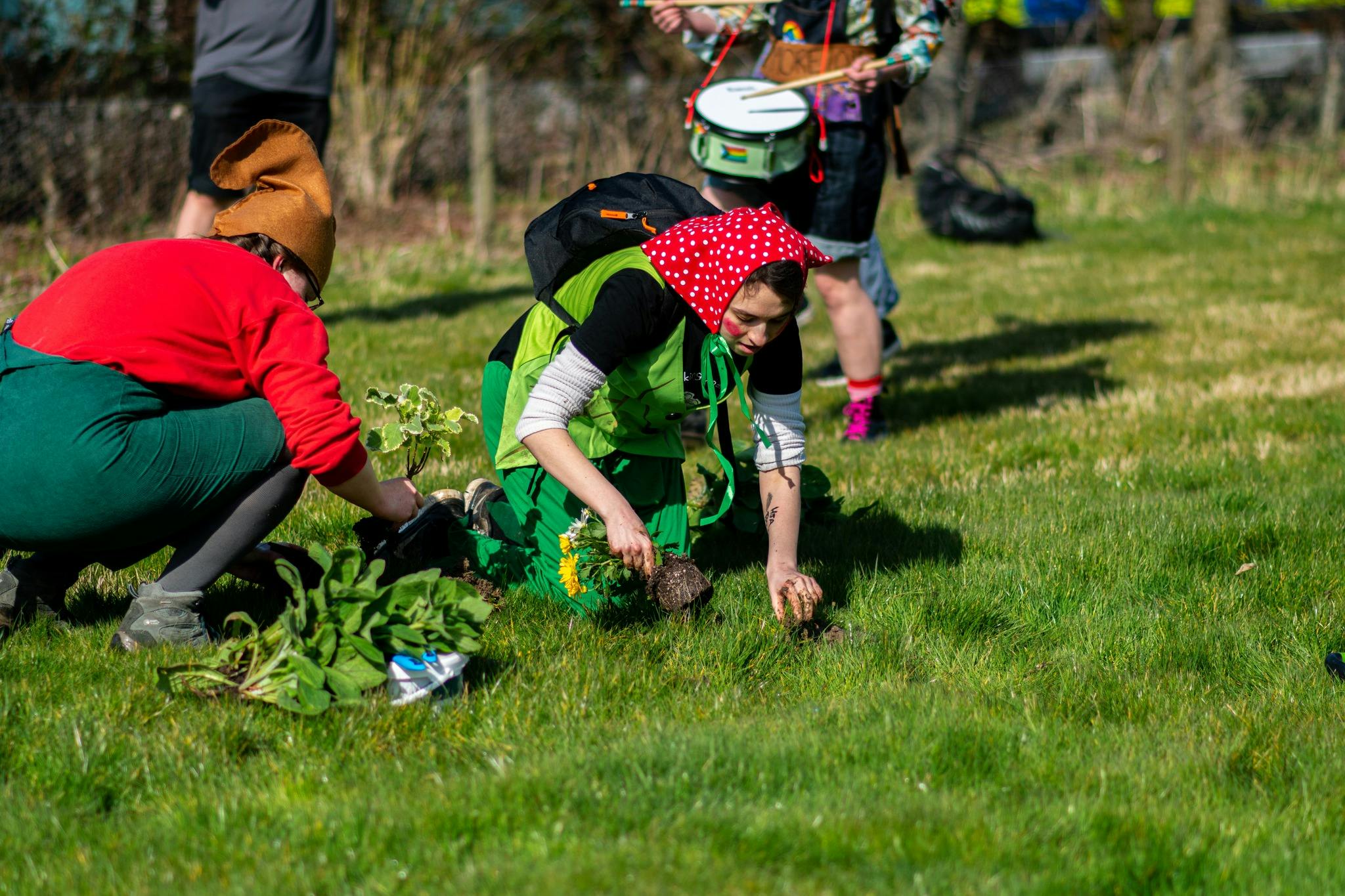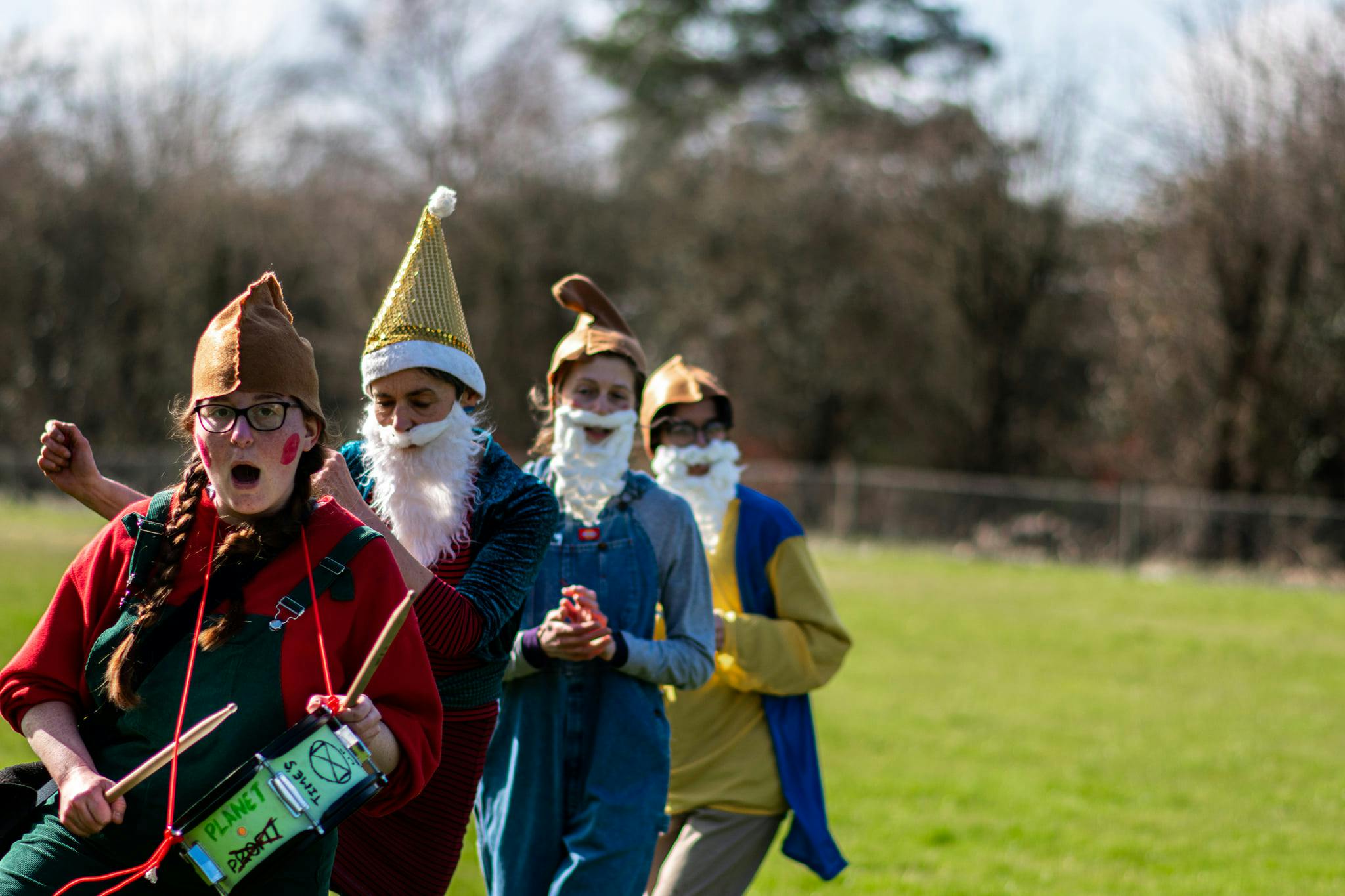 Extinction Rebellion (XR) Cambridge and XR Youth Cambridge activists dressed as gnomes and dug up the lawn at the Schlumberger Gould Research Centre today, in the fifth day of a week of action against the oilfield services giant, which has close ties to the University of Cambridge. The direct action harked back to an action over two years ago at Trinity College as part of XR Cambridge and XR Youth Cambridge's campaign to force the University of Cambridge and its colleges divest from fossil fuels, which has contributed to major successes.[1]
Schlumberger operates in over 120 countries and, at its Schlumberger Gould Research Centre in Cambridge, develops new methods of extracting oil and gas, using equipment such as the building's multiple built-in 'test rigs'.[2] Schlumberger has pioneered some of the industry's most harmful technologies: Arctic exploration, seismic exploration deep-sea drilling, tar sands, fracking and 're-fracking'.[3] It is one of many fossil fuel companies with deep connections to the University of Cambridge – which maintains these ties despite claiming to follow clear evidence from its own scientists that global heating must be kept below 1.5°C above pre-industrial levels.[4][5] As well as hosting Schlumberger on its West Cambridge Site, the University of Cambridge collaborates with Schlumberger on research, and gives Schlumberger social legitimacy through named positions such as Schlumberger Cambridge International Scholarships and a Schlumberger Professorship in Complex Physical Systems.[6][7][8] An activist from XR Cambridge said: "We dug up Schlumberger's lawn. Schlumberger's work allows the destruction of land all over the world – so companies can extract more of the fossil fuels which are causing climate breakdown and destroying the planet. We acted today to disrupt this devastation.
"In the Niger Delta, Schlumberger helped Shell to drill the very first commercial oil well – and it continues to provide technology and support for companies found to be seriously negligent in preventing and reporting oil spills. Clean-up costs for the fossil fuel industry's decades of devastating pollution in the region have been estimated at $100 billion.[9][10][11][12] Schlumberger claims that it will reach net-zero by 2050.[13] They are an oilfield services provider – they're taking us for fools if they expect us to believe that you can decarbonise the fossil fuel industry. If it keeps its promises, Schlumberger will 'decarbonise' its technologies and procedures for extracting every last drop of oil and gas from the Earth. It's truly absurd!"
Asked why the protestors were dressed as gnomes, an activist from XR Youth Cambridge replied: "The situation we're in is ridiculous – we're facing this major, worldwide crisis and the University of Cambridge is still working with major fossil fuel companies like Schlumberger. It's beyond a joke. We need people to take notice and pay attention to how absurd this is – and if we have to dress up as gnomes to make that happen, we will!"
XR Cambridge's 'Schlumberger out!' campaign makes three demands of University of Cambridge and Schlumberger:
Cut all ties: University of Cambridge stop collaborating with Schlumberger.
Kick them out: Schlumberger out of Cambridge.
Repair the harm: Schlumberger stop profiting off planetary destruction and commit to climate reparations.
XR Cambridge asks members of the public to sign the open letter calling on the University of Cambridge and Schlumberger to meet their three campaign demands.
Sources