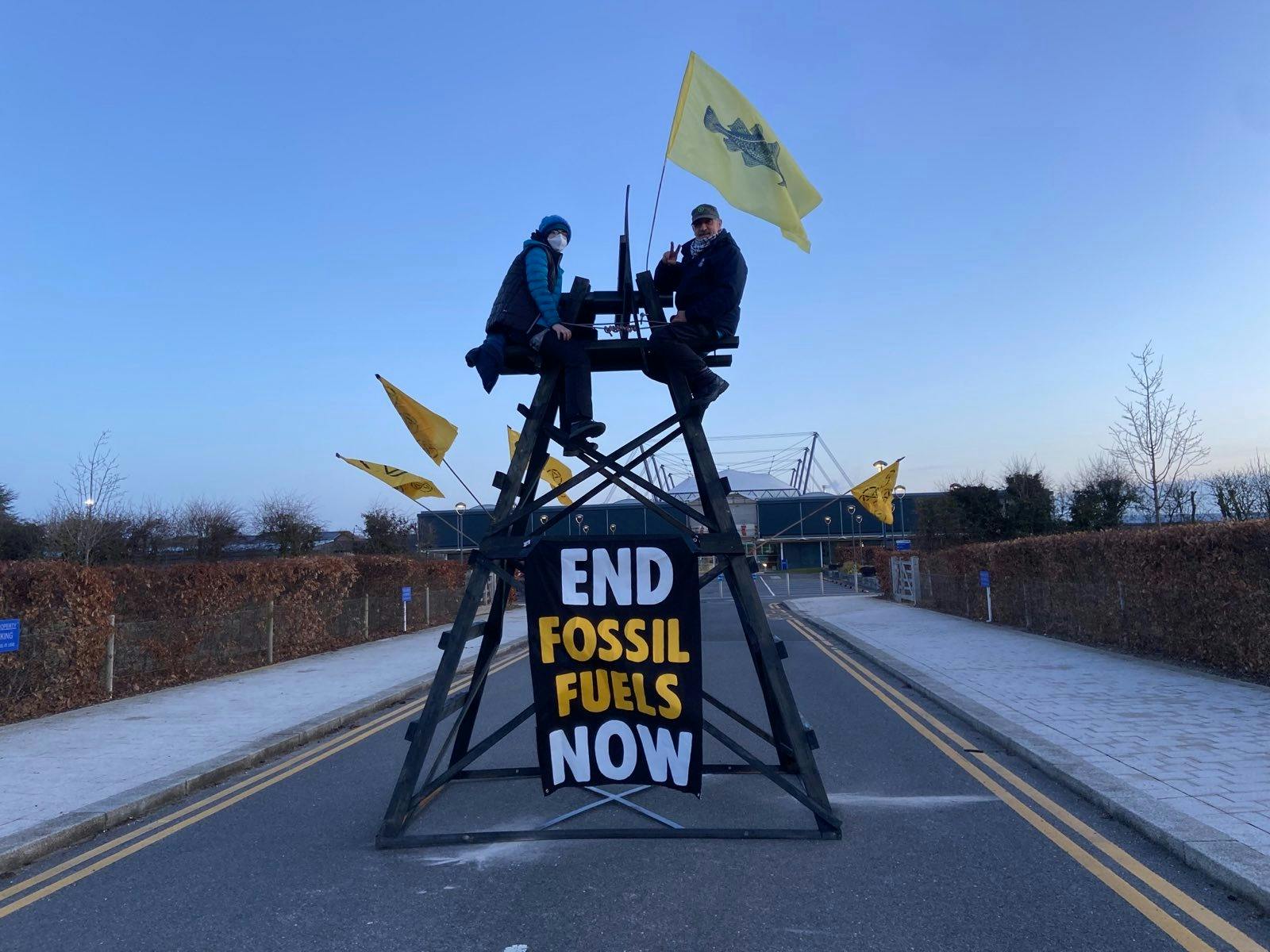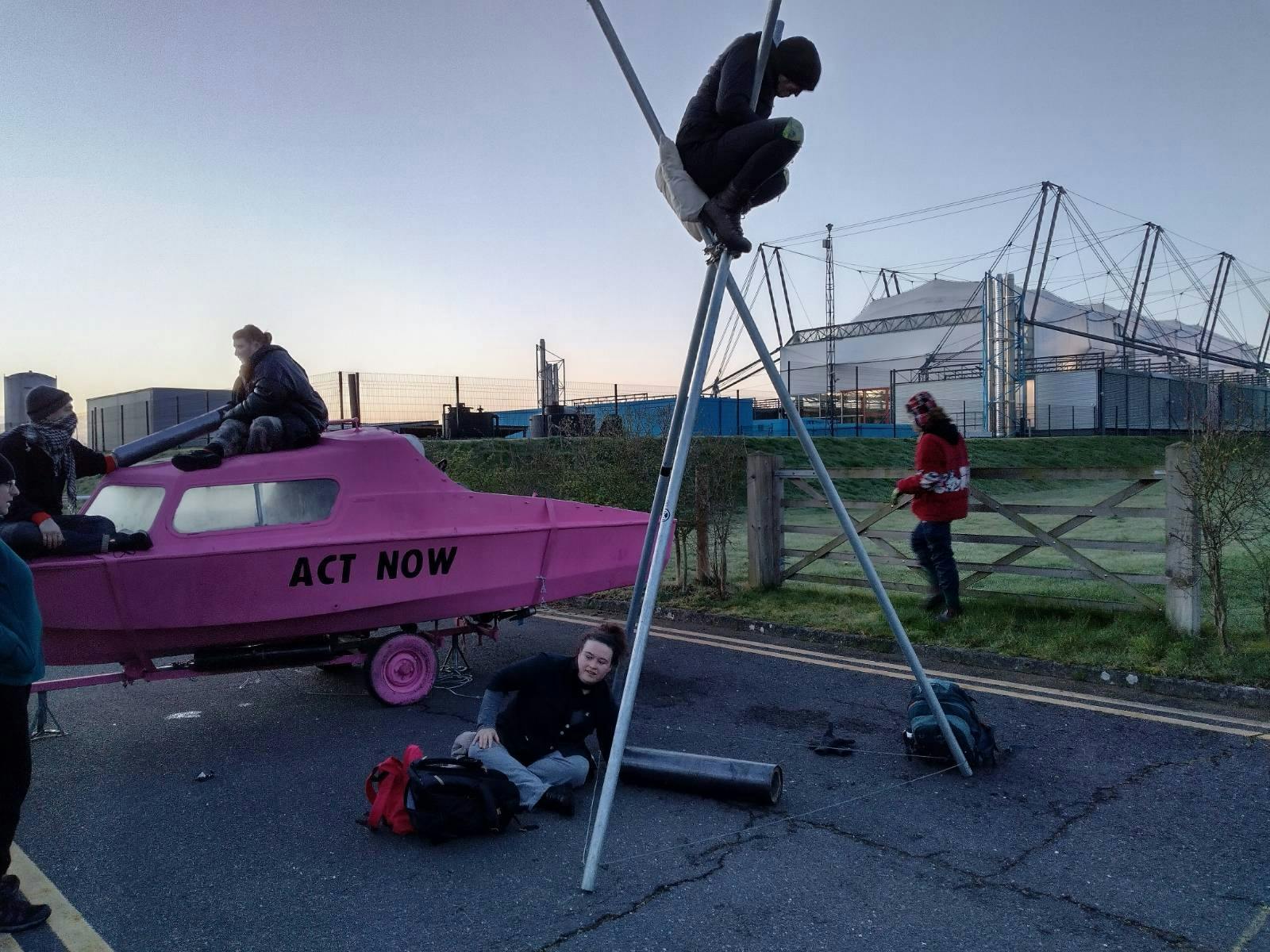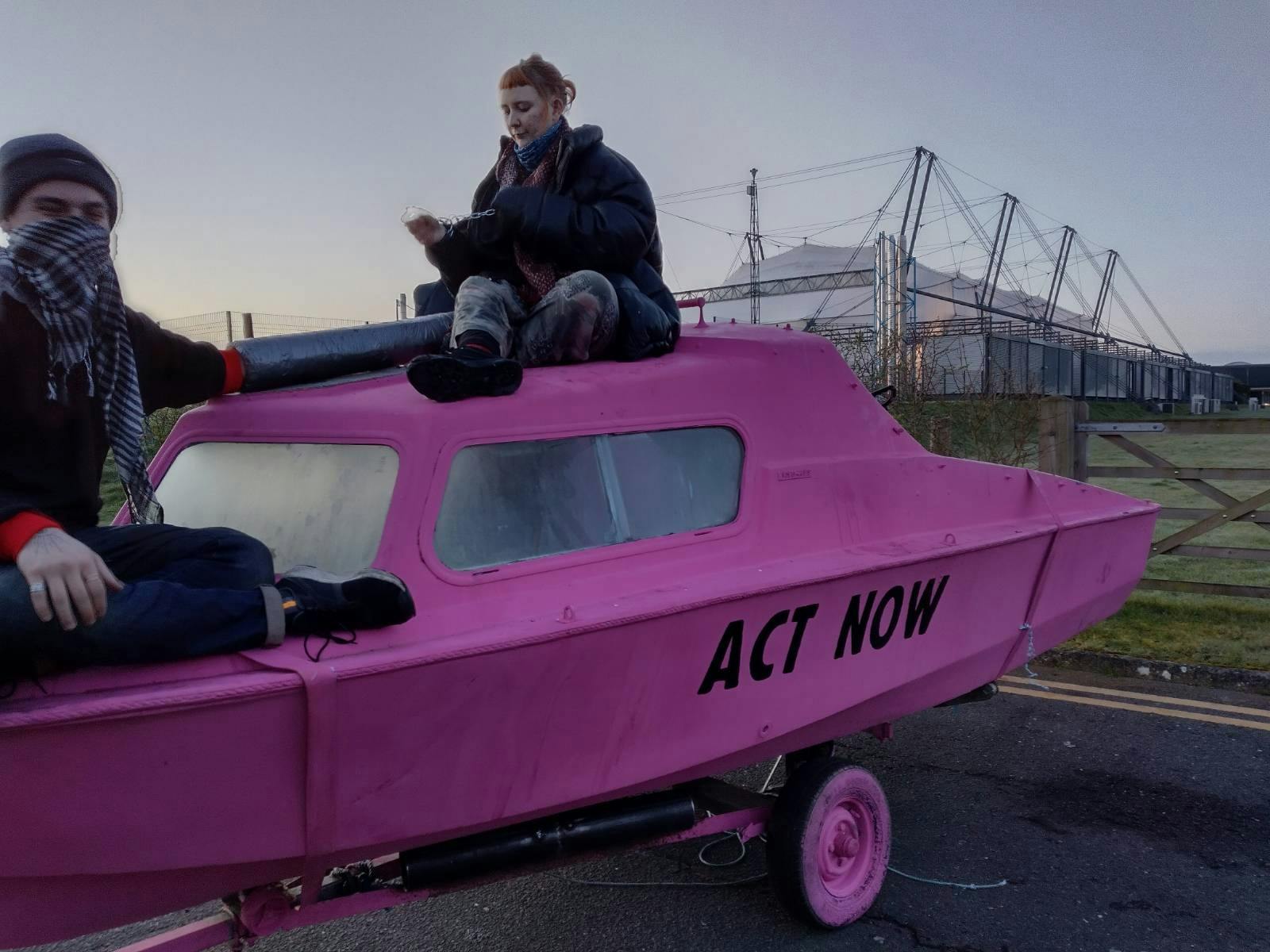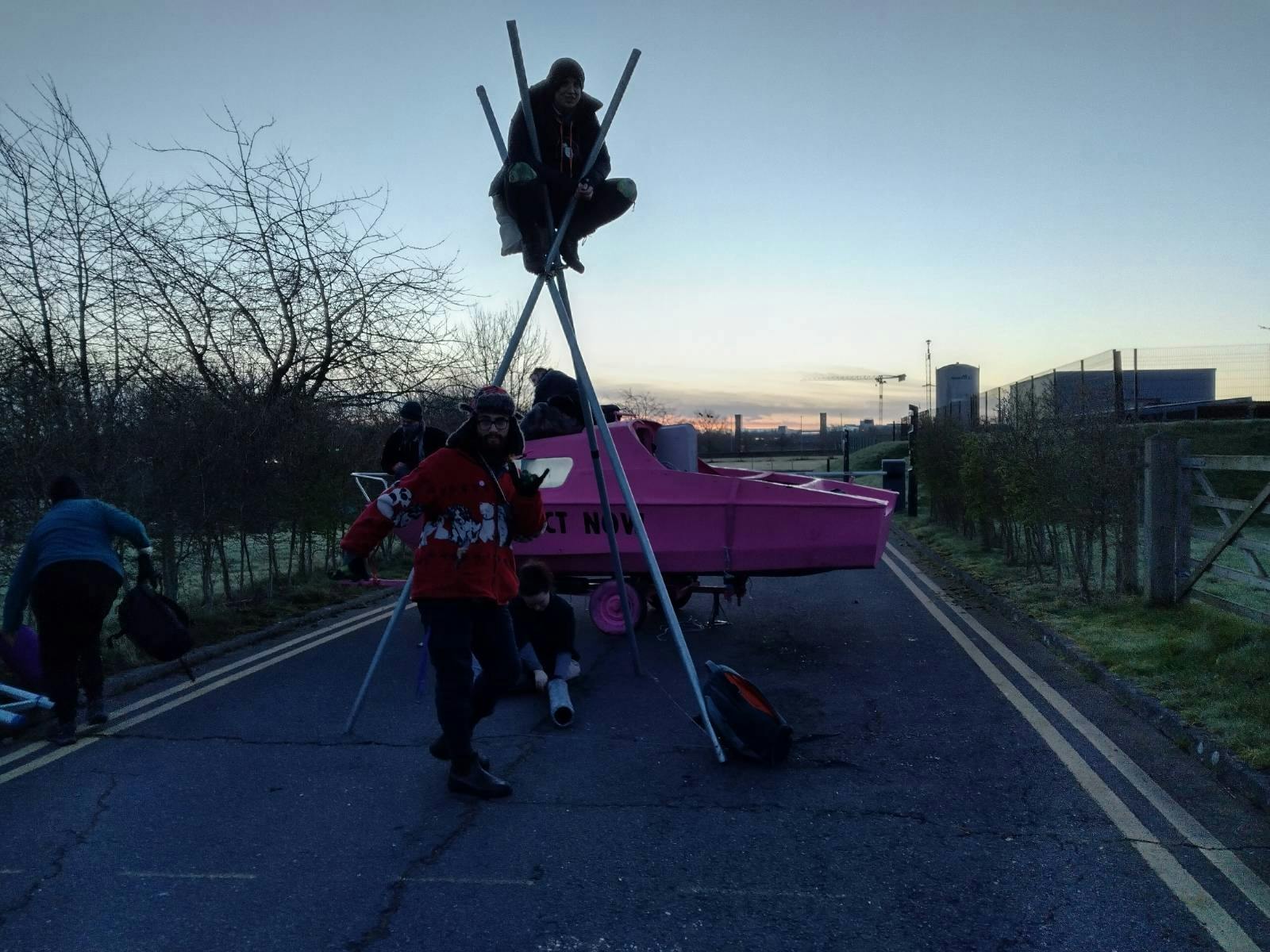 Exinction Rebellion (XR) Cambridge and XR Youth Cambridge activists blockaded oilfield services company Schlumberger today, using a boat, a fake oil rig, and metal "tripods" to prevent vehicle access to the main entrance and service entrance. The groups seeks to disrupt business for one week by stopping deliveries from arriving and limiting staff and visitors from entering the Schlumberger Gould Research Centre building. Schlumberger helps fossil fuel companies find new ways to extract every last drop of oil and gas from a world gripped by climate and ecological emergency, and has deep ties to the University of Cambridge.
Schlumberger operates in over 120 countries and, at its Schlumberger Gould Research Centre in Cambridge, develops new methods of extracting oil and gas, including some of the industry's most harmful technologies: Arctic exploration, deep-sea drilling, tar sands, fracking and "re-fracking". [1] It is one of many fossil fuel companies with deep connections to University of Cambridge – which maintains these ties despite claiming to follow clear evidence from its own scientists that global heating must be kept below 1.5°C above pre-industrial levels. [2][3] As well as hosting Schlumberger on its West Cambridge Site, the University provides training and resources through the Schlumberger Cambridge International Scholarship, and maintains a Schlumberger Professorship of Complex Physical Systems. [4][5]
The direct action is an escalation of XR Cambridge's ongoing "Schlumberger out!" campaign, which makes three demands of University of Cambridge and Schlumberger:
Cut all ties: University of Cambridge stop collaborating with Schlumberger.
Kick them out: Schlumberger out of Cambridge.
Repair the harm: Schlumberger stop profiting off planetary destruction and commit to climate reparations.
XR activists say they intend to cause maximum disruption this week, showing Schlumberger that their presence will not be tolerated by the people of Cambridge, and sending a message to University of Cambridge that it is time for them to stop enabling planetary destruction and human rights abuses by companies like Schlumberger.
An XR Cambridge spokesperson said: "We're here to stay. We've had enough of the University of Cambridge cosying up to fossil fuel giants which are destroying out planet. Just last week, the latest IPCC report reminded us of the true impacts of climate and ecological emergency - three quarters of the world's population could face extreme heat stress in just a few decades as temperatures rise unchecked. A billion people will be at risk of serious coastal flooding. We are starting to see the effects of this in the UK, now. In February, Britain was wracked by the worst storm in decades - during a week that brought three severe storms. And the fallout from the invasion of Ukraine has shown us that fossil fuel dependency leaves us vulnerable to eye-watering price rises when war and political stife hits oil and gas supplies. Schlumberger profits from our unhealthy dependence on oil and gas - yet the University continues to lend it legitimacy by hosting it on University land and providing it with a ready supply of academics to help with its fossil fuel research. We're here today because the University has totallyabandonedits moral duty to avert disaster by cosying up to planet-killers. It's time to kick Schlumberger out of our city and off the planet!"
Another spokesperson commented: "I am here to stop the University of Cambridge giving social legitimacy to planet-killers like Schlumberger. Already, millions of people in the Global South are facing the worst effects of the climate catastrophe. In Madagascar today, an unprecedented climate-induced drought has left hundreds of thousands of children living with acute malnutrition. [6] Companies like Schlumberger - which make money from the causes of climate breakdown - are responsible for this suffering. Schlumberger's fossil fuel clients force communities from their homes to get at oil and gas reserves, committing horrendous human rights abuses along the way. Schlumberger has provided technology to companies working in the Niger Delta - one of the world's most polluted regions, where the Government has executed activists seeking to stop fossil fuel companies destroying their communities. [7] There is no one Schlumberger won't work with to make a fast buck - and the University of Cambridge seems perfectly happy to go along with that. I have to be here today because the University is enabling Schlumberger to collude in the destruction of our planet - and that has to stop."
XR Cambridge asks members of the public to visit its website and sign the open letter calling on the University of Cambridge and Schlumberger to meet their three campaign demands.
Sources