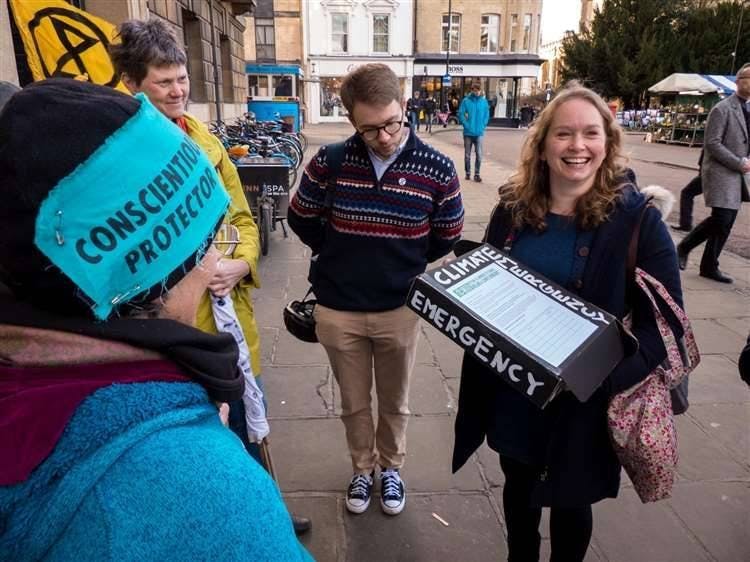 Cllr. Rosy Moore receiving the XR petition asking council to declare climate emergency, 2019. Credit: Derek Langley
We are devastated that Cambridge City councillors belonging to the majority Labour group voted to reject support for the Climate & Ecological Emergency (CEE) Bill. Having declared a climate emergency, as well as a biodiversity emergency, in 2019, this is utter hypocrisy and petty party politics. The CEE Bill is the only credible plan currently before Parliament to tackle the environmental crisis we face.

In a full-council meeting on Thursday 27th May, Abbey Ward's newly elected Green councillors Hannah Copley and Naomi Bennett put forward a motion which would lend the council's backing to the CEE Bill. However, Labour councillor Rosy Moore (Executive Councillor for Climate Change, Environment and City Centre) tabled an amendment which, in effect, withdrew support for the CEE Bill and offered support instead to the Tories' disastrously inadequate Environment Bill.

XR Cambridge rebels were out in force to urge councillors to back the motion as they entered the Corn Exchange, where the meeting took place. One Labour councillor told us that the Labour group do not always deploy a bloc vote and that he would listen to the debate. Instead, Labour whipped its councillors to support the amendment, effectively destroying the motion. Every Labour councillor present at the meeting backed the wrecking amendment, including at least one who had previously committed to support the original motion in support of the CEE Bill.

Despite declaring climate and biodiversity emergencies, the City Council's commitment so far is to achieve net zero within the council's corporate buildings, vehicle fleet and business mileage by 2030 - around 1% of Cambridge's emissions. These are woefully inadequate steps to take in the face of the emergency they say they recognise. Yesterday, they had the chance to signal their support for legislation which would treat climate and ecological breakdown with the urgency required. They stepped back from their responsibilities.

Cambridge Labour are playing party politics with the planet. It shows how little regard they have for their constituents' futures, as well as those around the world whose lives are already being turned upside-down by climate breakdown.

The political establishment cannot be trusted. It's time to take direct action.