The brutal murder of George Floyd, Breonna Taylor, Ahmaud Arbery, Tony McDade and countless others are horrific manifestations of systemic racial oppression in the United States, which is also present here in the UK. We are disgusted and stand in solidarity with black and brown communities who face state violence and racism. We are outraged by the repeated failure of the US policing system to address the killing of unarmed black people by police officers. Enough is enough; we have been silent for too long.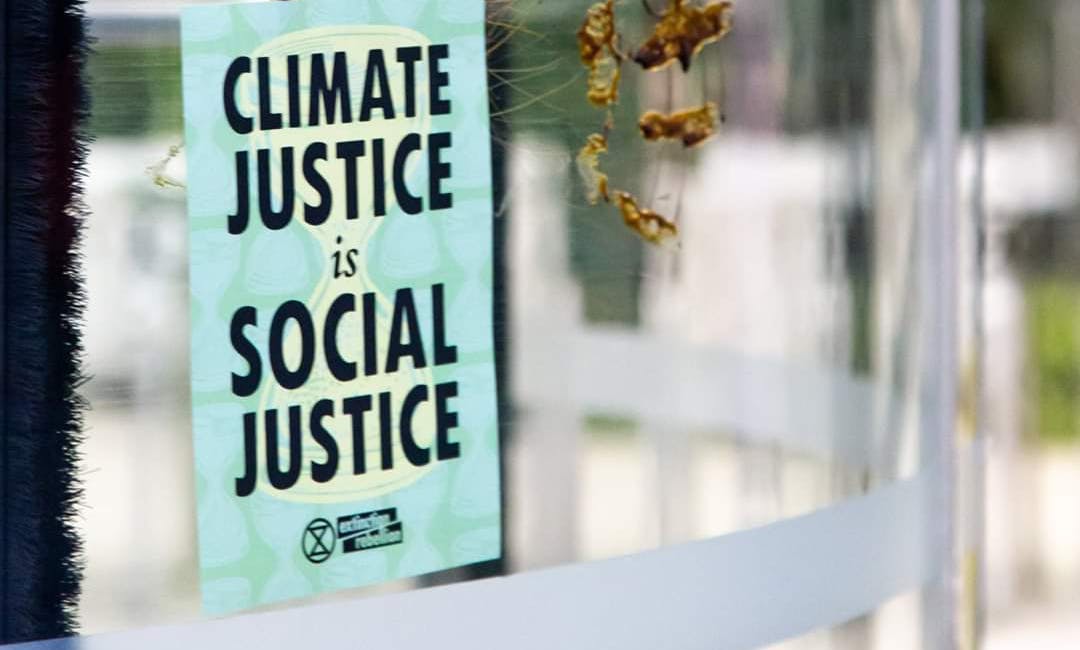 We acknowledge that the system we live in is racist by design, and that silence shows complicity with murder. It is not enough to be non-racist - we must be actively anti-racist. We have a vision of a more equal and just world and try to embody this through our actions and support. We are learning and growing and sometimes do not act swiftly or boldly enough. It is long overdue for racial justice to become a more explicit goal in our movement and in our theory of change.
Climate justice is social justice
Climate and environmental justice is far more than the reduction of emissions alone. There will be little progress if we separate the ecological issue from the social factors driving extractivism and destruction. Without social justice for marginalised and oppressed peoples we cannot build a sustainable future.
Black and brown people in the Global South are disproportionately affected by climate change and ecological destruction, for which the Global North is largely responsible. In the UK, we must acknowledge our colonial past and that racist structures are still in place. If we do not acknowledge these injustices in our wider society, we will not be able to confront them within our movement.
Overcoming racism in our own movement
XR owes any and all successes to the struggles of indigenous communities who have been fighting against ecological destruction for centuries. These true eco-warriors have faced extreme violence and have been murdered for defending their homes. We call upon XR nationally and internationally to be better allies to these communities, amplify the voices of black and brown activists and show solidarity through our actions.
We acknowledge that our theory of change, which involves non-violent direct action and an arrest strategy, poses a higher risk for black and brown people due to police presence and racial targeting. This form of protest is not accessible to everyone and relies on a level of privilege. White activists face fewer dangers when engaging in protests, and as a result black and brown people are not included in the same way. We apologise that our movement has been slow to address this.
Our key messages, including our introductory talks and inductions, are missing information on colonialism and systemic racism which are pertinent to understanding the global climate crisis. It is up to us to take charge in educating ourselves on these issues and spreading awareness of the social factors that drive ecological destruction. This is just as important as understanding the greenhouse effect if we are to achieve meaningful change.
We must also recognise that as an activist organisation, XR must always stand in solidarity with those activists who align with our Principles and Values whenever they face oppression. We are pleased that XR UK has encouraged rebels to attend rallies in support of black and brown protesters in the United States. We would like XR UK to go further and issue a public statement expressing solidarity with those facing violent repression as they gather to protest police brutality.
This is a complex issue and we are not experts, just regular people who care. We are trying to express things in a sensitive way but might not get it right. If you have any feedback please email xrcambridgefeedback@protonmail.com. This is an ongoing conversation and we are here to learn.
What can individuals do?
When XR supports other movements, it must not dominate the narrative or shout over other voices, but act with respect and humility.
As a movement disproportionately made up of white people, we must take charge of educating ourselves and seek to amplify the voices of people of colour.
We urge activists not to remain silent on intersectional issues such as racism.
We call upon members of XR to show solidarity with Black Lives Matter and other activist groups standing up for the rights of people of colour.
Signed:
Extinction Rebellion Cambridge
Extinction Rebellion Youth Cambridge
Extinction Rebellion Norwich
Animal Rebellion Norwich
Animal Rebellion Cambridge
Extinction Rebellion Bury St Edmunds
Extinction Rebellion Ely